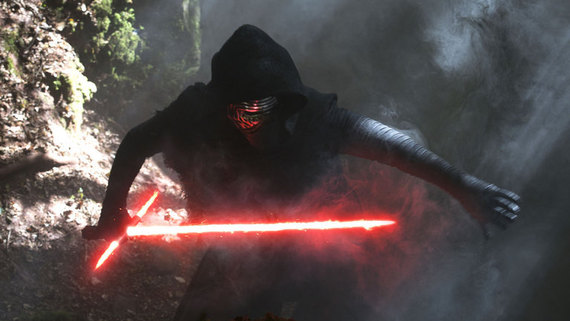 Disney / Lucas Films
Warning: This piece contains several major spoilers for Star Wars: The Force Awakens.
Today, I saw the new Star Wars for the second time since its release. The Force Awakens is a very enjoyable addition to the pop-cultural supernova, raking in over $247 million in the U.S and Canada opening weekend.
While I was extremely excited to see what characters like Finn and Rey had in store, one of the most anticipated new characters to the series was the new villain Kylo Ren. On the Star Wars website, Ren is described as:
A dark side warrior with a mysterious past, Kylo Ren was neither Jedi nor Sith, but a product of both sides' teachings. Once an apprentice of Luke Skywalker's, he killed his fellow students and drove Skywalker into exile, becoming a First Order warlord and servant of Supreme Leader Snoke. Kylo was determined to destroy the last remnants of the Jedi, fulfilling the legacy of Darth Vader.
Kylo Ren's first appearance in the film is just epic. He is cold, stoic, witty and extremely powerful. He speaks with a robotic, yet silky voice, wields a wicked, crackling new lightsaber, and has prodigious control of the force (the scene where he stops the blast from Poe Dameron is one of the best scenes from a Star Wars villain in my opinion. And the visual static and distortion that happens when Ren freezes people was a brilliant special effect).
While most would agree that Ren could never fill Darth Vader's black boots, he seems to be a suitable successor for this and subsequent sequels.

Joshua AdamsBecome a fan
Source: www.huffingtonpost.com